CARSOME Academy Appointed as JPK 'Recognition for Prior Achievement' Accredited Center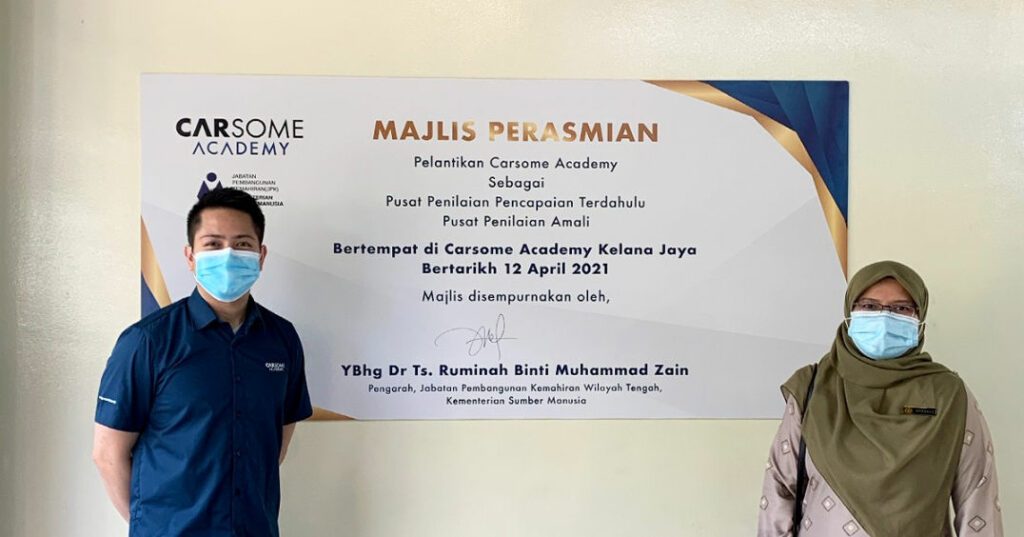 (L-R) Teoh Jiun Ee, CARSOME Co-founder and Carsome Academy Director and YBhg Dr Ts. Ruminah binti Muhammad Zain, Director of Department of Skills Central Region, Ministry of Human Resources at the inauguration of CARSOME Academy as 'Recognition for Prior Achievement' (RPA) accredited center.
KUALA LUMPUR, 20 April 2021: CARSOME Academy, the education arm of Southeast Asia's largest integrated car e-commerce platform CARSOME, was recently appointed as an accredited Recognition for Prior Achievement (RPA[1]) test centre by the Department of Skills Development (JPK[2]). In its first step towards becoming the center of excellence for industry gold standard, this appointment allows the Academy to award the Malaysian Skills Certificate (SKM[3]) Level 3 in Motor Vehicle Inspection to experienced technical workers in the automotive industry.
The RPA is a special program to award government- and industry-recognized certification to technical workers who do not have formal qualifications, but are able to demonstrate skills that have been outlined in the National Occupational Skills Standards (NOSS) based on working experience and achievements. Being a JPK accredited center for RPA, CARSOME Academy is equipped to lead motor vehicle inspection standards in the automotive industry.
CARSOME Co-founder and CARSOME Academy Director Teoh Jiun Ee said that the Academy is the first accredited RPA test centre offering the SKM Level 3 in Motor Vehicle Inspection. " By setting the gold standard in vehicle inspection, CARSOMW is set to become an automotive industry game changer and continue spearheading the used car market. JPK's appointment allows us to provide an opportunity to experienced workers to gain or upgrade their certification in a short period of time; we hope that it will serve as an encouragement and motivation for them to continue excelling in what they do," Teoh added.
With the accreditation, CARSOME Academy is set to certify all CARSOME vehicle inspectors, in a step to bring more assurance and transparency to the used car industry traditionally marred by distrust. This is in-line with the Academy's continuous effort in building a professional technical workforce and moving the Southeast Asian automotive industry forward.
"Recognizing all CARSOME inspectors through certification will strengthen the assurance factor as we deliver an elevated customer experience to people who matter to us. As we see more players foraying into the used car business, there will be an increased demand for vehicle inspectors. CARSOME Academy is in the best position to plug the gaps in the demand for certified skilled workers," Teoh explains.
A certification in Motor Vehicle Inspection can open up more opportunities for vehicle inspectors and ensure continued success in their career paths. CARSOMW Academy offers a hassle-free process for those who wish to gain or upgrade their certification. Candidates who have three years' working experience in the automotive industry only need to sit for a one-day certification assessment. Upon passing, they will be awarded the SKM Level 3 in Motor Vehicle Inspection by Carsome Academy.